Reinstalling Windows (again)
Posted by Dylan Beattie on 08 July 2022 • permalink

In November last year I upgraded my main workstation to Windows 11. I didn't like it much. Lots of unnecessary window dressing - rounded corners, changes to the Start menu, context menu, stuff that wasn't a problem but didn't really improve anything. I found Windows 11 slower than Windows 10. Booting my PC in the morning took nearly 3 minutes, most of which it was just sat there with a blank screen, doing something – I have no idea what? – before it finally brought up the login screen.

But the thing that clinched it was that something in Windows 11 couldn't handle certain kinds of image data on the clipboard; copying images to the clipboard would cause parts of the UI to flicker, crash, redraw, and basically make Windows unusable. Most noticeably anything in Adobe Photoshop - there's a support thread here all about it, but it's not a Photoshop problem; various other applications caused the same behaviour, up to and including right-clicking the icon in the Google Chrome Help > About page.

So bye-bye Windows 11.

When it comes to reinstalling Windows, this is not my first rodeo. I keep everything important on a separate drive, with all my work either pushed to GitHub or backed up in Dropbox, so my D: drive just comes along for the ride completely intact, meaning it's not that big a deal to reformat C: and put a fresh Windows install on it. So I took a backup copy of my C: drive – just in case – and then grabbed the latest Windows 10 Pro ISO, used Rufus to burn it to an 8Gb USB stick, and off we go.

Windows 10 install took about 15 minutes. Here's what goes on afterwards:
Configure Windows
The Essentials
I use Ninite to install Chrome, Firefox, Evernote, Steam, Zoom, Discord, Dropbox, Python x64 3, WinSCP, PuTTY, Visual Studio Code, Winamp, Audacity, Spotify, K-Lite Codecs, WinDirStat, and 7-Zip.
For the last few months I've been using Vivaldi as my default browser, but this time around I'm gonna stick with Edge for a while and see how it goes.
Sign in to Chrome, that syncs my bookmarks and browser extensions, including LastPass, which has credentials for pretty much everything I do online.
It always surprises me how usable the system is at this point. So much stuff is web/cloud based now that a connection, a browser and LastPass is enough to get into Google Drive, Gmail, Twitter, Facebook, GitHub
The Big Bag O' Fonts
I have a lot of fonts. They're all backed up in Dropbox. Ctrl-A, right-click, "Install for All Users…"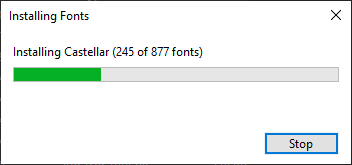 I like fonts.
The Command Line Stuff
Languages and SDKs
GUI Apps
Then it's a big long list of apps I use on a daily basis, which I'm listing here as much for my benefit as yours:
After installing Visual Studio and Resharper, to into Tools > Options > Source Control > Plugin Selection and set it to None. Otherwise you'll get an error message "Files still read-only" when trying to do various refactoring and renaming things with Resharper.

https://stackoverflow.com/questions/26715783/resharper-function-shows-files-still-read-only
And there you go - fresh install to a usable system in less than a day. Sure, I'll be finding odd bits that aren't set up quite right for a week or two, and there will invariably be some app I reach for one day a few months from now and discover I forgot to install it, but WIndows 10 just feels so much snappier than 11 ever did – and best of all, I can use the clipboard in Photoshop again. 😊